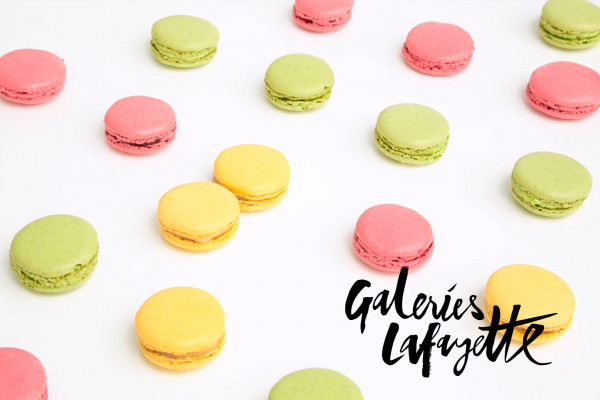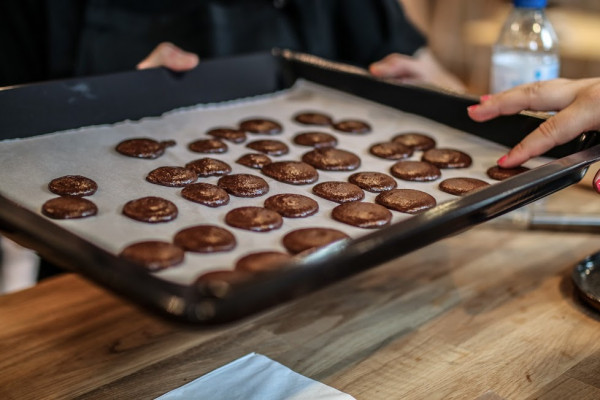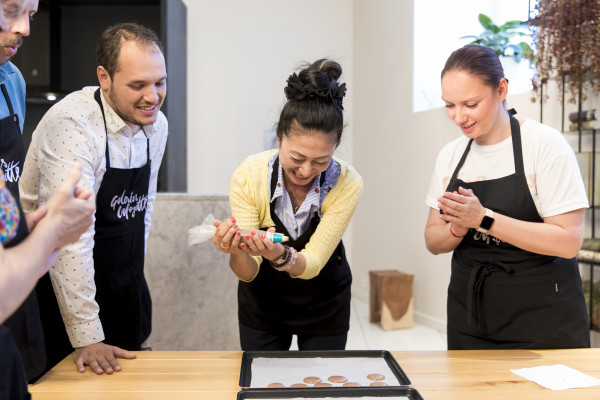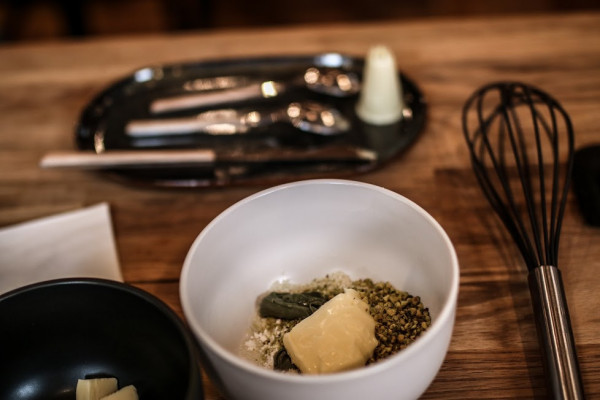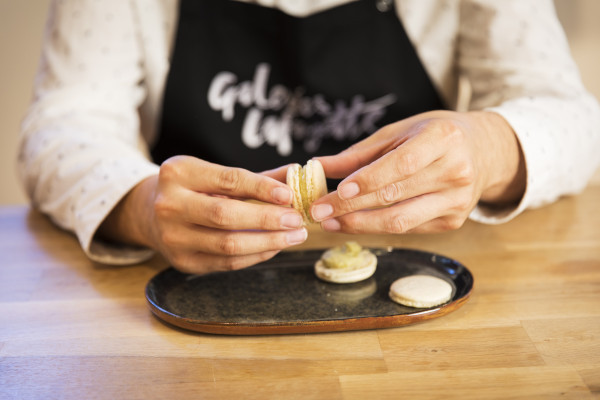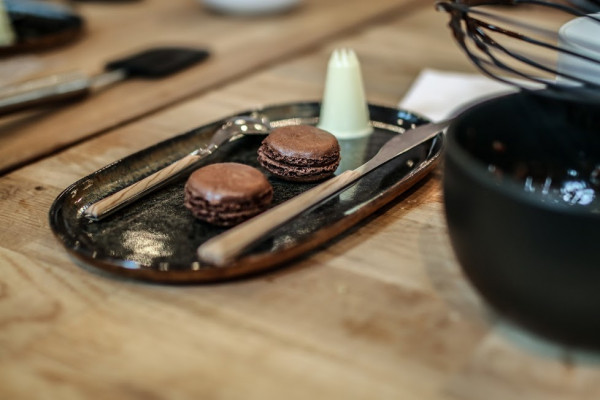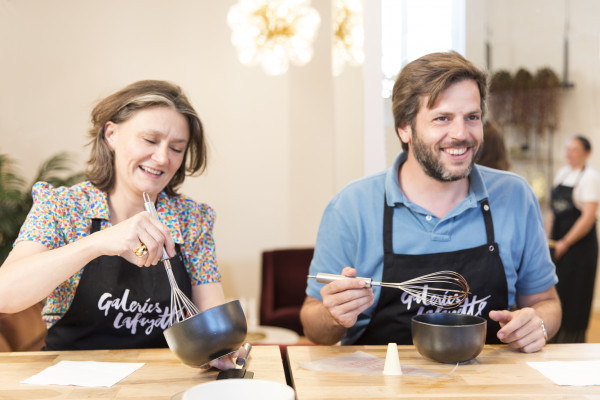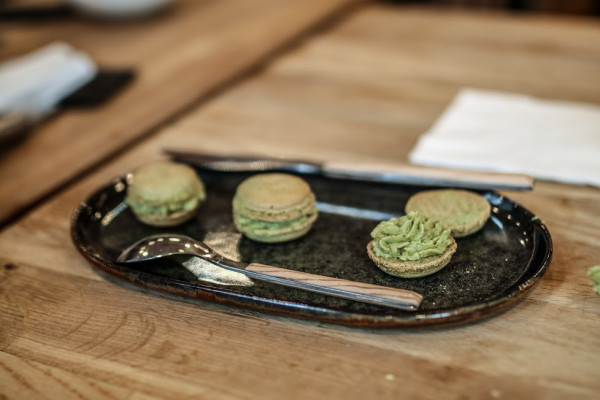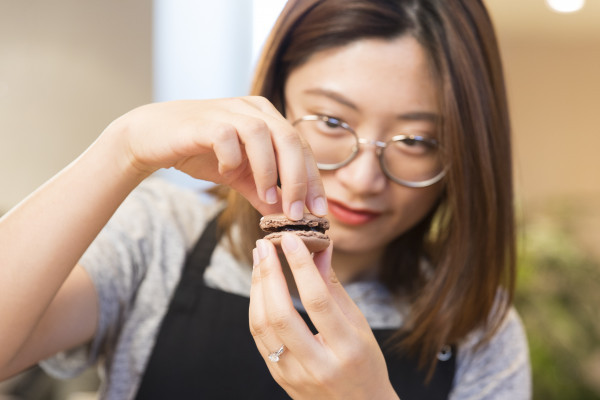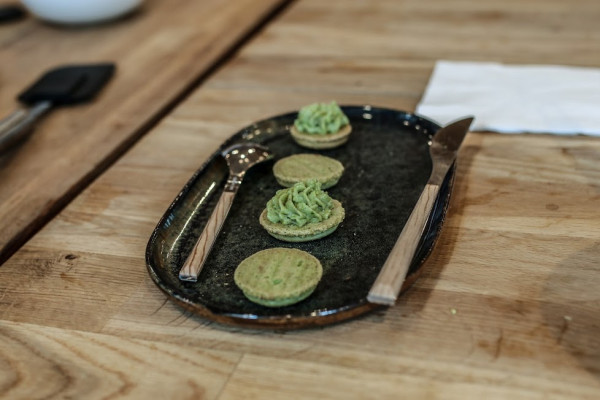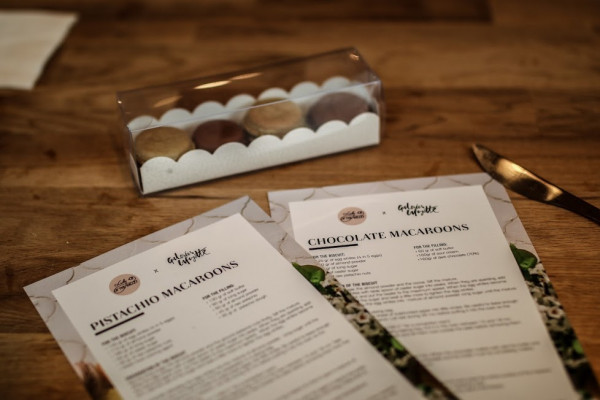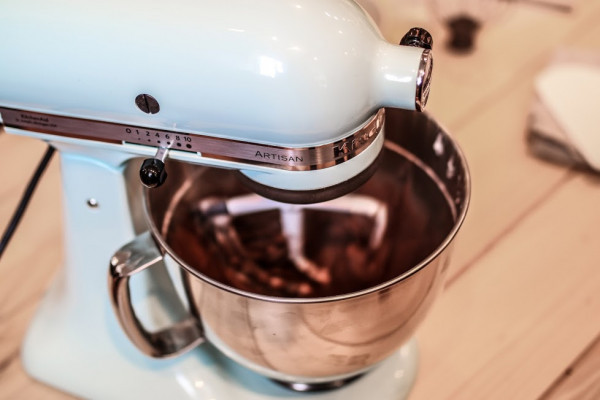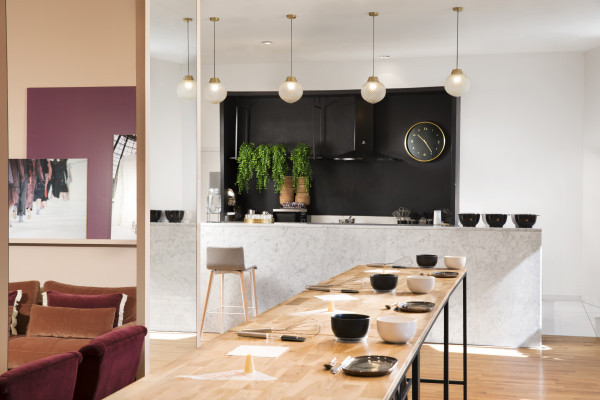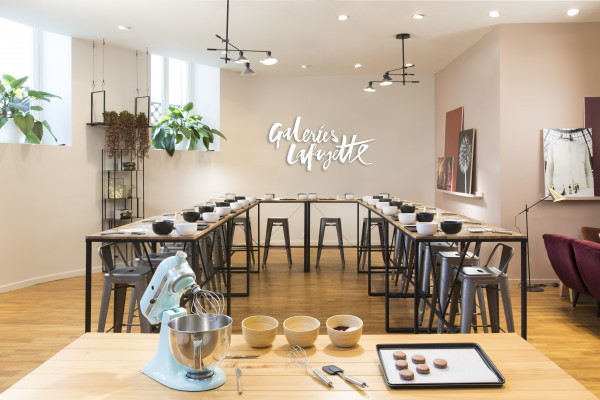 在巴黎市中心最繁华的歌剧院商务区,巴黎老佛爷奥斯曼旗舰店为您准备了一场探索马卡龙烹饪技巧之旅。在1小时30分钟的体验时间内,在巴黎老佛爷百货内部的特别美食空间,亲身体验法国美食文化的象征:马卡龙。在轻松愉快的氛围中,您将跟随法国的甜点体验向导一起,探索从烤制外壳、制作奶糊到调制馅料等一系列马卡龙烹饪秘诀!在体验结束时,您可以现场品尝试吃或带回家与您的亲友共享美味。体验环节中,您可以选择使用英语、日语或中文作为您的体验语言,您还可以选择英语体验的马卡龙家庭工坊。
掌握法式马卡龙烹饪技巧
个性化指导
了解制作马卡龙的基本技巧
参与趣味盎然的烹饪体验
获得专业甜点师的专家级指导
4-18人一起分享愉快时光
马卡龙烹饪体验设有英语、日语和中文选择。
| | |
| --- | --- |
| 已包含 | 4 macarons par personne à déguster ou à emporter |
| 未包含 | Boissons softs ou alcoolisées |
| 持续时间 | 90 小时 或 0 小时 |
| 携带 | 设英语、日语和中文。 |
| 参与人数 | 马卡龙英文烘焙工坊每次可接纳4至18人 马卡龙日语和中文烘焙工坊每次可接纳4-12人 马卡龙家庭工坊每次可接纳4-12人 |
| 营业时间 | |
| 重要信息 | 成人班:6岁以下儿童谢绝参加,6岁以上12岁以下的儿童须由成人陪同。您可以预订英语、中文或日语体验。家庭体验: 家庭体验须至少包含一位成人和一位儿童。每位成人最多携带两位儿童。仅限5至12岁儿童。如果不满足其中一个条件,我们有权拒绝您参加家庭工坊体验。如果未达到最低参与人数,老佛爷百货保留取消体验的权利。在这种情况下,您将获得全部付款金额的退款。您可以提前48小时免费自行取消。在此时间之后,将收取全部费用。为您的健康着想,避免进食过多脂肪、糖和盐www.mangerbouger.fr |
场所
Galeries Lafayette Paris Haussmann
40 Boulevard Haussmann, Paris, France
Parking 24h/7 . Croisement Boulevard Haussmann et rue Mogador.
Métro: Chaussée d'Antin-La Fayette (lignes 7 & 9), Trinité (ligne 12), Opéra (lignes 3, 7 & 8) / RER: Auber (ligne A), Haussmann-St Lazare (ligne E) / Bus: lignes 20, 21, 22, 42, 53, 68, 81 & 95
Offered by
Galeries Lafayette Haussmann
75009 - Paris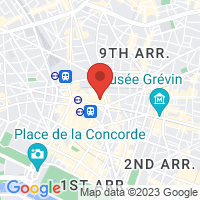 160评论
< 之前的
1
2
3
4
5
6
7
8
9
10
11
12
13
14
15
16
> 下一步
Les trucs!
It was a birthday surprise for my sister and a great success. We both loved it.
The teacher was clear, knew her stuff and utterly charming!
We both really appreciated learning the tricks required for a successful macaron!
由Sonja Van Praag对于2023-12-07
Fun activity in Paris!
My mom and I did this class together while she was visiting Paris. It was a lot of fun and the instructor had great tips no matter your skill level. Merci!
由Molly对于2023-12-01
Chaotic reservations system.
Booking is for 19th December so have not yet attended.
Booking was a mess . Voucher was refused online. After many emails eventually it took phone call to set up the RV for the event.
This request as to whether I enjoyed the event which I have not yet attended, is an example of an administrative system which is chaotic.
由Nigel Ellis-Gray对于2023-11-23
Will not recommend
The location of this class was very difficult to find. NO ONE on the mall staff knows where this class was even the customer service staff at 2 floors know where it was. I realized later the exact location from the ticket which was in VERY Very small print. It should be in big bold letters at the start of the confirmation email as the mall itself is easy to find.
I didnt learn anything that I havent seen in youtube. The instructor was very unfriendly. The piping or shaping the cookies was done as do how you wish. We were not given our own ingredients for the bater and we didnt prepare the piping so we can have hands on experience. We were given ingredients for the filling and making that was the easiest part. Making the cookies was the critical part to learn and we were just shown how do nothing different from youtube videos. This is NOT worth the €55! I want a refund.
由Shiela Caalim对于2023-11-22
Macaron class
We had such a fun time. The instructor was excellent. The people in the class were fun. I wish we could have made more. We look forward to taking more classes in the future.
由Christine Nottage对于2023-11-18
Very enjoyable and instructive Macaron class! Merci!!
My friend and I had lots of fun and also learned a lot of good tips during this macaron class! Marie was such a good teacher, making us feel welcomed, taking her time, showing us the process in detail and answering any questions people raised. We all really enjoyed the session, which seemed to fly by all too quickly. Eating the macarons later that day was a great bonus!!
The kitchen classroom was very cosy and welcoming too. It was nice to learn in such an 'international' environment, with other people coming from Canada, Spain, California...we all had a go at piping the macarons and I cannot wait to put all my new learned skills into practice this weekend now I am back home. Thank you again Marie!
由Catherine Tew对于2023-11-17
Good
Cours d'expérience intéressant. Le professeur a été très patient et a expliqué soigneusement. bon environnement. Convient également pour suivre des cours avec des enfants.
由lihua YANG对于2023-11-16
Awesome
Very informative, fun glass for adult and children
由Chali Hodges对于2023-11-10
Made our Trip to Paris more special
In the beginning it seemed to be a little hurry...the lady seemed nervous to get the workshop done in 90 minutes. Especially, when 2 guests showed up late... after the beginning. The workshop itself was very interesting and a memorable experience. I highly recommend it to families with kids/teenagers who are interested in baking and who speak either English or French well enough to be able to follow. I think the lady did a good job presenting and explaining in 2 languages at the same time! Congrats! It's definitely a spot to top the other tourist experiences in Paris. And a way to appreciate every macaron you eat....knowing it needs time, patience and Know-how
由Brigitte Koelbesberger对于2023-11-07
Underwhelming experience
We were very underwhelmed by the experience. The woman who weld the course was friendly, but that's it. There was no warm welcoming (she opened the door but didn't say a word - we had to ask if we could enter the room), the place is not decorated (very simple, feels like a cantine), no music in the background (sometimes a weird silence), not even a water is offered to us and thus simply not exist a Parisian vibe in that experience as we expected it. Fun, positivity, interaction was definitely missing (how we know it from other baking classes as such).
Also: while we were still in middle of our class (after 45 minutes) a cleaning lady came to wash all dishes in front of us - that was a big big downer and took away even more the vibe. It didn't feel worth 55€ per person and unfortunately we cannot recommend the event as such, even though when they would put more love into it, it could have more potential. Sorry!
由David H.对于2023-11-07
Fun morning in Paris
This class was super fun. The instructor gave tons of helpful hints and slowly walked us through the process. It made it seem like I could actually try to make these at home!
由Susan Davis对于2023-10-30
We really enjoyed the experience, the tutor was excellent
The environment was clean and spacious, the tutor was excellent, relaxed atmosphere.
由Eirwen Williams对于2023-10-27
Nice experience :)
I had this experience with my sister, and we just loved it. Marie was very nice and kind and shared with us all the secrets to making amazing macarons.
由Laura Pereira对于2023-10-27
Great fun, and enjoyed sharing this time with my niece!
I strongly recommend this activity!
由Béatrice Villa对于2023-10-26
Macron baking class
Really enjoyed. Got to learn so many tips and met so many people who share my love of baking
由Sonali Kodange对于2023-10-23
Not overwhelming, tasty fun
Booking was very straightforward — as was finding our classroom. We ended up (the two of us) walking away with 8 macarons after a few attempts at baking the shells and then doing ganache. Having walked through it like this I definitely feel confident enough to try it at home, as soon as we are back.
由Athena Dion对于2023-10-23
Super fun experience!
This was one of the most fun experiences I had while in Paris. My 20 year old and I took a macaron making class at Galeries Lafayette. The space is beautiful and the instructor was lovely to learn from.
We had a great time learning the inside tricks of making a perfect macaron. During the class we were able to have hands-on time as well as, watching the expert at work.
In the end, we left with treats to enjoy later in the day, which were absolutely delicious.

This store is some thing to see, it is one of the most beautiful buildings in Paris!

I highly recommend this experience!
由Leslie K对于2023-10-13
Satisfactory
It was very engaging and resourceful. I can't wait to get back home to try doing them on my own.
由Zainab Deebeely对于2023-10-06
macarron class
we loved the activity, but we have a problem to find a room, nobody could give an information for us, we walked for 20 min locking for a place to our class.
We enjoyed a lot and probably we will recommend this class!
由Andrea Torres对于2023-10-05
One of the highlights of our trip!
What fun! We were given a demonstration of how to make the macaron shells, and then we each mix our own filling and piped it into the shells. We each made four macarons: two chocolate and two pistachio. We were then given the option of eating them, or taking them with us. I highly recommend this activity and will do it again the next time I'm in Paris!
由Elaine Ferreira对于2023-10-05
Inspiring workshop
I definitely recommend this workshop; it is well explained in English and gives you appetite to go and make it at home!
由Josee Schouten对于2023-09-26
A "demonstration" not a baking class
We were very excited to attend the macaron class in the beautiful appartement and although our host was very friendly and the experience was very educational it was mostly a demonstration and not a baking class.

I expected to make the macarons myself from start to finish and I believe that that is what the class should be. For the price, only filling pre-made macarons is not good value for money.

Overall I felt very disappointed and expected a proper baking class and not an educational demonstration.
由Eugenie Herbst对于2023-09-22
Atelier agréable
L'animatrice est excellente et sympathique. Bien que le site indique que l'atelier soit donné en anglais et en français, l'atelier n'est offert qu'en anglais (on est à Paris !), elle a pris la peine de dire l'essentiel en français également.
Atelier très intéressant et agréable mais coût un peu élevé pour l'ensemble.
由Sonia对于2023-09-18
Pas assisté au cours car en anglais
Cadeau pour mon anniversaire
Pas fait l activité car cours en anglais
Ne parlant pas anglais j ai quitté le cours et demande le remboursement
由Patrice Loison对于2023-09-17
I just love this experience
It was an enjoyable experience for both adults and children.

The facility was very well organized and exceptionally clean.

We thoroughly enjoyed our time there.
由Ronald Zirka对于2023-09-11
Wonderful Class
The class was fun, and the instructor was patient and explained everything very well.
The macarons that we prepared were delicious.

I fully recommend this activity as part of a Paris trip.
由Veronica M对于2023-09-04
Schöner Backkurs in Paris
Super organisiert, leichte Buchung, tolles Event während einer Paristour. Hat sehr viel Spaß gemacht und das Rezept hat auch zu hause funktioniert. Es ist sehr zu empfehlen.
由Anja H.对于2023-09-01
No actual baking
The instructor was very nice & overall the class was a fine time. However, we just watched her make the cookies and then just stirred the butter. I was expecting much more interactive for 55 euros. Only bring home four macrons, that you didn't even bake yourself. Incredibly underwhelming.
由Katelin Kimball对于2023-09-01
Nice, but mostly just watching
Our experience was okay. We had a nice instructor, Joanna, and the facilities were nice. But we had expected a more hands-on experience. Instead, we mostly watched, and then were given very basic hands-on activities: mixing premeasured ingredients, squeezing out premixed ingredients, and spooning on our simple ganache onto premade cookies. Not highly involved. Joanna provided lots of helpful tips and explanation. However some of the important tips, like tapping the cookie tray, were not included on the written recipe provided.
由Jake DeBruyn对于2023-08-19
Not worth it
This activity is definitely not worth it. You arrive at the given address and no employee knows which floor the class will be on. I went to the concierge and it was empty, no one available to give information.
During class, you watch the teacher make the macaron dough, then you learn how to make the filling and that's it. Very little content for the amount charged.
由Isadora Santos对于2023-08-17
Learning to prepare good macarons
I expected to practice my french, so I was a little disappointed.
Nobody at Galeries Lafayette told me about L'appartement, I met 20 minutes to discovery the place of the class.
由Ana GOMES对于2023-08-17
Plutôt sympa
Dommage qu'il n'y ait pas d'endroit clairement disponible pour se laver, essuyer les mains et jeter le papier à la poubelle. Il a fallu que je demande, les autres participants m'ont imité ensuite.
Rien pour poser vêtements et sacs. Un verre d'eau ou une fontaine à eau disponible pendant cette activité serait bienvenu.
Dans l'ensemble activité plutôt sympa et plein de conseils utiles. Ça a aussi plu à mon ado de 13 ans.
由Danielle Zwank对于2023-08-09
Fun macaron class
This was a well priced and fun macaron class at the Galeries Lafayette. I appreciated that it wasn't overly long but be warned that you don't actually make the entire macaron from scratch. I felt like I left with some good tips to try it on my own. I would recommend though that the group is offered water to drink or aprons to wear for the class.
由Traci Kerns对于2023-08-09
Location
We almost missed our appointment because we had hard time finding a place inside mall
由KRUPA PATEL对于2023-08-03
vraiment un perte de temps et d'argent
J'ai trouvé ce cours de macaron vraiment peu intéressant. Alors on a bien eu une recette pour faire des macarons mais cet atelier n'apporte selon moi aucune plus value par rapport à une vidéo sur Youtube. Lors de mon cours nous étions 18 personnes. Alors évidement il n'y a pas vraiment de pratique. La seule pratique que nous avons fait était demélanger un peu de beurre avec un peu de chocolat fondu...
Je ne recommande pas du tout de faire cette activité que vous soyez un amateur de cuisine ou que vous cherchiez une activité à faire avec des enfants. Ce n'est pas cette activité.
Au final on sort de cette Atelier avec 4 macarons et deux feuilles de recette...
Voilà vous êtes prévenus

由Pierre-Louis Dargenton对于2023-07-31
The lady was rude
We got lost in Lafayette and came in 10 minutes late and the lady scolded us as if we were elementary school kids.
She was very rude
由Alejandra Postlethwaite对于2023-07-27
Macaron baking class!
We loved learning how to make Macarons! Joanne was an amazing baking instructor, my granddaughter and I loved taking home our special treats!
由Susan Ironside对于2023-07-17
fun baking class
Really liked this experience, very friendly chef and tasty macarons!
由Britt vandevenne对于2023-07-12
Great family activity
Wonderful experience. Great fun for the family!
由Steve Gelfand对于2023-07-10
Good time
This was fun and easy, would recommended to anyone wanting to lean how to make macarons
由Juliane Sormain 对于2023-07-07
Highly recommended Macaron class
Highly recommend it! Teacher is wonderful!!!!
由Stephanie Ng对于2023-07-07
Fun activity for Paris!
We enjoyed this experience and had a great time learning the tips, tricks and recipes to making French macarons!
由Sierra 对于2023-07-03
Amazing experience !
My daughter loves macarons and now she can even make them. Staff was great and I would recommend for anyone who has the time !
由Greg Murray对于2023-07-03
Great class
I would very much recommend this class. Class leader was very knowledgable and explained macron making procedure on very easy and understandable way, so also children could follow and understand. At the and, we were quite small group of seven and class lasted longer than 1h, therefore we had a lot of time for our questions and all of us got a chance to try how to gush the macron shells. We also learned few tricks for making the filling. Great value for the money and I will for sure try the recipe at home.
由Anja Kresnik对于2023-07-01
Amazing experience! Our instructor was so charming.
Though it was a bit difficult to find - the entire experience was amazing! Extremely well organized , gorgeous working space and very charming instructor. I am a French teacher and had five of my high school students
with me and they loved it. Very easy to book through the Go City card. Would highly recommend this experience! I would mention on the booking that it is on the 6th floor and called l'appartement - many store workers we asked didn't know where it was.
由Anne Hilmes对于2023-06-23
Fun!
I would recommend, the host was very nice and gave us many tips to successfully make our own macaroons. Would go again !
由Alfred Shum对于2023-06-19
Great experience
Very good teacher who created a calm atmosphere and gave good instructions and tips. I participated with my young old daughter and we had a great experience!
由Mille Iversen对于2023-06-12
Baking in Paris
We had a lovely experience with our baker. She did a great job pausing and showing us each step. She was very encouraging while we mixed and plotted our cookies.
The only feedback was that it was difficult to find for a tourists since there are three building and store employees sent us to the wrong area three times.
由Katherine Richardson Espiau对于2023-06-10
A nice athmosphere and very informativ pastry class
As we were all visitors at Paris it would be great to know in advance that it takes around 15 minutes to visit the restrooms before starting the class.
I would recommend the class to friends.
由Julia Dobbin对于2023-06-10
Interesting but
I wish it was even more hands on!
由chel对于2023-05-28
Perfect Mother-Daugther-Event
My daughter and I had a lot of fun! The workshop leader had a very nice manner, was competent and sensitive! Thanks very much!
由Hemma对于2023-05-23
Très bien pour les touristes
La personne qui encadrait l'activité était très gentille ! Toutefois, il s'agit d'une activité très bien pour les touristes mais pas pour réellement apprendre à faire des macarons. En effet, nous n'avons rien fait d'autre que de faire la ganache des macarons (mélanger du beurre et un peu de chocolat, pistache). Heureusement que la femme donne quand même de bons conseils pour réaliser les macarons ! Attention, cours 100% anglais !
由Oceane 对于2023-05-20
Macaron Pastry class
Lovely experience! Highly recommend this activity! Maria, (I think that was her name) was fabulous!
由Gabrielle Allender对于2023-05-04
Macaron Odyssey
This class was disappointing. I was so looking forward to it, but it was mostly sitting and listening to the instructor for 90 minutes, more of a lecture on how to bake macarons with no actual baking. We squeezed batter for two macarons out of the pastry bag onto a baking tray and mixed the ingredients to fill a chocolate and pistachio macaron. The instructor was lovely and shared useful baking tips.

Also, the classroom was nearly impossible to find. I was emailed the street address in my reservation confirmation email, but store employees either didn't know where to find the class or said it was in one of the other two buildings. We spent 45 minutes being sent to the wrong location and were about to give up when one person knew were we needed to be--which was on the third floor in the "apartment." With more than 750,00 square feet in the three buildings, specific directions to find the class are necessary.

由Jan Carteaux 对于2023-05-02
Great time
This was a lot of fun. Not extremely technical but definitely teaches you what you need to know to make your own Macarons. Highly recommend this for just about everyone.
由Barry Segal对于2023-04-28
The French experience in France!
It was amazing learning how to do macarons, and the host was so king.
由Chanelle Milandou对于2023-04-24
Fun and Informative
This was a very fun class. I feel I can now recreate the macaron she showed us. Yummy recipe when we sampled.
由Addie Walker对于2023-04-19
Regrettable
I regret participating in the Macaron Pastry Class at Galeries Lafayette. I didn't make macarons, but instead, I watched someone make them. The class is held in a cold, dark, and very quiet room. It was a bit depressing. The woman teaching the class was lovely but the whole presentation was very long and boring. I can't recommend this class.
由Beth Jones对于2023-04-18
Lovely session, but expensive!
The 1.5hr session was led by pastry chef Jennifer - she was very welcoming, friendly, and engaging. We learned how to make and pipe macaron shells as a group and then filled pre-made shells to take 4 macarons home. A lovely experience, however for 55 euro I was expecting to be able to make our own macarons and also take more than 4 (!) home. The price is potentially more reflective of the luxury location.
由Freya对于2023-04-11
Brilliant fun - the highlight of our vacation
I've booked this workshop as a treat for my 16-year-old daughter's birthday. We had a brilliant time, lovely people and came away with some delicious edible treats.
由Sarah Jackson对于2023-04-08
What a great experience!
Thoroughly enjoyed our Macaron experience at galléries Lafayette!
由Eric Larsen 对于2023-04-06
Great learning experience, so much fun!!!
Teacher was great, it was amazing to learn something new in a new country while you travel.
Will definitely recommend everyone to try it!!!
Finding the location was a bit difficult as the mall is so big.
由Priya S对于2023-03-30
Macron class
The class was very educational and fun!! Highly recommend. We loved our instructor who made the class interesting and offered very good tips! However I wish there was a better description of where the lass was located. That part was very confusing. I had to ask several people and call to confirm the location.
由Shonda Kinnison对于2023-03-30
Great experience
we enjoyed the class very much! The room was a bit difficult to find but all tools were well prepared beforehand and we shared a lot of "secret" tricks - especially for laymen :) and had a lot of hands on experience!
由Marianne对于2023-03-27
Good experience!
It was fun and the professor was very nice ! I could learn lot of things.
But we didn't have enough time to see how to bake in the oven. When I try to make it at home, it turned out like almond cookies…
由Fumie Yanagi对于2023-03-23
Wonderful!!!
I loved the class format. Marie was wonderful! I am looking forward to trying to bake macarons at home. Before the class, I thought they would be too hard to make. The only change I would make was I wished I had wrote down the hints that Marie gave us for successfully making macarons. I would definitely recommend this class
由Amanda W对于2023-03-20
Great experience
Very informative and enjoyable experience, good price , I recommend!
由Cecilia Pados对于2023-03-19
Wonderful experience
We had a wonderful time learning to make macarons in Paris at the Galeries Lafeyette. Marie was a delightful teacher. The class was entertaining and informative. The macarons came out perfectly and tasted delicious. We cannot wait to try our new skill at home. I highly recommend the experience.
由Gina Bossard对于2023-03-16
Amusant et ludique
J'ai bien aimé la façon de transmettre de Marie. Le cours a été clair et facile à suivre.
Bonne humeur et plein de "tips" partagés.

J'ai eu quelques soucis pour trouver l'endroit de la formation même si dans le "voucher" il y a pas mal d'indications.
由Maria Romero 对于2023-03-02
In french please
Sympa mais à 14 l'animatrice n'est pas toujours disponible
由Adelie PASTOR对于2023-02-28
Great experience
It was very easy to book and the instructor was very clear in her instructions which made it easy to follow.
由Mason Burnett对于2023-02-17
nice experience
it was nice but it was hard to find the lab, there were no indications and almost no one who works there knew where it was taking place (apartment, 3rd floor). the first part was nice but a little bit fast, the rest was an amazing experience.
由Francesca Fiorillo对于2023-02-13
Something different!
A really fun activity, different from the usual tourist trail. It was a lovely and relaxing way to spend an afternoon in Paris.
由Sarah Davies对于2023-02-13
Macaron class
I love this class! The teacher was very informative and answered every questions I had. I just hope they come out right???? 100% recommend this class
由Liane Cheng 对于2023-02-04
Bonne activité
+ : une cheffe très sympathique et pédagogue, des astuces et une recette "facile" à reproduire

- : nous ne faisons pas la recette de A à Z par nous mêmes, nous repartons avec "seulement" 4 macarons qui ne sont pas faits avec nos propres coques.
由Amélie Plantier对于2023-01-13
Bien
It was a nice experience and I learnt how to make some great macarons.
I would've preferred to make the whole recipe myself from start to finish but I appreciate there is the time limit.
由Anon对于2023-01-09
Great experience together
My girls and I enjoyed the macaron making class. The instructor was very talented and kind. It was quick and easy and definitely something memorable to do while in Paris.
由Luciana Gonzalez对于2023-01-09
Sweet Way to Feel Like a French Macaron Pro!
Being in the iconic Galleries LaFayette Hausman and learning to make iconic macarons~ what could be more festive?! This class, taught by bilingual Marie, was a fun way to spend a little time in a very easy class. Marie was easy to understand and follow. A lovely recipe card and the macarons we made were great souvenirs.
Only thing that I would warn about is the stools. The stools are SOLID heavy metal, and sitting on them for over 10 minutes became very uncomfortable to many. We could easily stand up and change positions but still be good at the counters.
I would recommend this to anyone (even young people 10+) to demystify making the French Macaron.

由Darice Weems对于2022-12-22
cadre super très bonne ambiance l'équipe est super et on se sent tout de suite à l'aise
très très bonne ambiance Le chef est super très conviviale on se sent tout de suite à l'aise
pas de difficultés lors de la réservation ni pendant l 'activité
oui à recommander
由Roger Taix对于2022-12-19
Recommended
The place it self at the galary was very hard to find
由Shirly Windmiller对于2022-12-15
Bonne expérience pour voir comment faire des macarons
J'ai beaucoup appris lors de ce cours de macarons, et Marie a été très sympa et a beaucoup répondu aux questions. Cependant, je suis un peu déçue de ne pas avoir pu réaliser les coques nous-mêmes, puisque c'est l'étape la plus compliquée. Mais au moins, le cours permet de voir la texture que doit avoir la pâte et quel sera le rendu. Le petit plus c'est que l'on repart avec la recette et quelques macarons.
由Jeanne LE NEZET对于2022-12-12
Macarons to kickstart the morning
The hands on class was just enough to get a feel for making this colorful and flavorful treat. The instructor was generous with her time and answered all questions, We all took home 4 macarons that we created. It was fun and a good way to start the day. The only negative issue was finding the kitchen, signage was a little confusing to us. When in doubt ask.
由Thomas Gunnell对于2022-12-10
Excellente experience
J ai passé un très bon moment conviviale à confectionner les macarons avec une cheffe pâtissière.
由Valérie Seurin对于2022-12-09
Le rapport qualité-prix n'est pas bon
Malheureusement, on ne pouvait pas faire grand-chose soi-même et beaucoup de choses étaient déjà préparées. La dame qui l'a fait était très gentille et a aussi bien expliqué. Malgré tout, nous avions imaginé le cours autrement.
由Elisabeth 对于2022-12-08
Superbe !
I like the place, the apartment, very private and clean. Marie is very passionate in sharing her expertise and explaining step by step for a perfect macarons. I will recommend for the first timer. Merci, Marie
由Cielito Giraud对于2022-12-07
Hard to understand
It would be better if they can have someone who can speak English better or just label it as French only and I would not have bought the tickets. I couldn't understand most of the lady's English and thought that I could take some video to refresh my memory. She scolded me for taking the video which I didn't see anywhere saying that we can't take video. Overall I found the experience underwhelming and disappointing.
由Jie Moore对于2022-12-05
Overvalued
I didn't like the fact that we didn't cook, we just looked the chef prepare the mixture. We just mixture some easy ganache made only with butter. Nothing special, I do not suggest it. I thought it was a masterclass to know and to prepare macarons. Its just like looking some TV series on cooking. Also the macarons aren't so good. They are sticky. They only let you prepare two cover of macarons, and a little ganache made with butter.... very disappointed.
由Beatrice Berardinelli对于2022-11-18
Activité sympa mais sans plus
Le lieu est très agréable mais pas facile à trouver. Nous avons aimé les petites astuces transmises par la Cheffe mais avons été déçu car en réalité il n'y a quasi pas de manipulation soi-même et c'est ce qu'on était venu chercher. Pour des touristes étrangers, c'est fun mais pas pour des parisiens.

由Sandrine B.对于2022-11-14
Lost our Money, Couldn't find the class!
This would have been one of the highlights of our trip. However, upon arriving to what actually was the correct location and asking two employees, the doorman and a concierge for directions to where the class was located in the store we were redirected to another building. After asking the concierge at that location we were sent to the other location. If you see thebsize of these department stores, you know how long this trek took us. We ended up finally finding an employee who knew of the cooking class and she took us to the correct location of the class. Needless to say, by that time the class was half over and the instructor looked at us like we were crazy. She advised us to try to get our money back, which seems impossible because I cannot find a phone number to reach a person to speak to. With all of that being said, NO, I do not reccomend this offer to friends!
由Brenna Elise对于2022-11-13
Macarons homemade
Die Räumlichkeiten sind klasse. Die Ausstattung war perfekt.

Marie, die Patissière ist sehr nett und kompetent. Marie hat uns gezeigt, wie man den Teig herstellt und die Macarons spritzt. Wir durften selber die Füllung für Schokoladen- und Pistazienmacarons machen.

Ich hätte gerne selber für meine Macarons den Teig hergestellt, die Macarons Böden gespritzt und meine Böden mit der Ganache gefüllt.
2 Stunden wären dafür aussreichend gewesen.

Leider haben wir nur jeder 4 Macarons gefüllt und mitnehmen können.

Daher bei "Value" nicht die gesamte Punktzahl.
由Patrizia Lock对于2022-11-07
Excellent quick class on how to make macarons
The chef was very clear about the basics of how to make macarons. Explained everything and gave tips on how to make macarons better.
The booking was quick and easy, and the place where the activity was hosted was perfect, clean, and spacious.
I would have liked to do the merengue and incorporate the almond flour myself, but I understand that having mixing machines for everyone might be costly, perhaps a low-end mixer to have the full experience could be even better.,

I absolutely recommend this class.
由Luris Elisa Munoz对于2022-11-05
Inspiring Macraon Pastry Class
Our chef was very nice and explained every step for making macarons with a lot of enthusiasm and detail. It was a delight listening to her and following her instructions. Also the combination of presentation and hands-on practice was a good equilibrium. Both my daughter (13) and I enjoyed the class very much and already recommended it to friends.
由Tina对于2022-11-02
Throughly enjoyed
We both really enjoyed the course. We were expecting to make macaroons from start to finish but that probably more our fault for not reading it properly. We enjoyed making the fillings for the macaroons and were happy with our final results.
The lady leading the course was lovely. I would definitely recommend and will be trying to make them again when at home.

Side note: having never been to the department store, the signs weren't the easiest to follow
由michael steele对于2022-10-27
Macarons class: excellently prepared!
Very nice intro to making macarons yourself. And the result is guaranteed to be perfect!
由Wim 对于2022-10-26
Entertaining time!!
Very nicely done.. great space, super nice chef, overall good experience
由Danae Paschalides对于2022-10-06
Super expérience
Atelier très bien organisé, intervenante adorable qui arrive à faire de ce moment une expérience que l'on a envie de renouveler.
Idéal pour les débutants.
Petit bémol concernant la difficulté à trouver l'appartement dans les Galeries.
由Justine Baux对于2022-10-06
Delightful experience!
The class is well designed and very informative. The instructor was on top her game by drawing all participants into the fundamental process steps of making delicious macaroons. I had a lot of fun!
由David Christensen对于2022-10-03
Lovely Experience
Was a little drawn out .. We were under pressure for time - so do give yourself the time and space of 1.5 hours. Our chef Marie was wonderful ..made a lovely fuss of our daughter for her 16th Birthday.
由Marcus Cosgrave对于2022-10-02
Déçu
Activité trop simple
Tout était déjà fait
Juste la fiche technique à la fin
Et les participants qui arrive en retard
Déçu
由patrick hara对于2022-09-29
Not a cooking class, just a demo
I paid €147 for myself and two daughters. The description implied that we would be making macaron. However, we only watched someone make them and then mixed a bit of filling and stuck 4 macaron together. Total waste of time in my opinion.
由Maureen Price对于2022-09-29
Wonderful experience - highly recommend!
Our instructor - Marie - was absolutely delightful! She explained everything so well and simply that even the most experienced bakers in the class learned some new tips and tricks. She was encouraging and positive and made the class so enjoyable. The macarons we made were very tasty and I can't wait to try making them again at home! Would definitely recommend this class to anyone looking for a fun morning/afternoon activity. Following the class, we shopped in the beautiful Galeries-Lafayette store and then made our way to the rooftop terrace to enjoy the views over Paris. Merci Marie!!
由Reaghan Fortin对于2022-09-26
Bonne experience
I would have like to try to do on my own the shell.
Anyway it was fun and the teacher very good and nice
由Chiara Contesini对于2022-09-22
It was AMAZING!
I very much enjoyed every bit of it! The thing i liked most was the personality of the instructor she was amazing, and very helpful in a fun way! There weren't any difficulties for me, the overall experience was really educational yet entertaining at the same time. And yes i would definitely recommend it.
由Lulwa Almufarrej对于2022-09-19
Perfect
We have all the secrets!
The guide was an amazing as a person and super professional in teaching and baking.
Everything as promised and on time.

由Bruno Huino对于2022-09-12
Super sympa!
La prof était très bien, les macaron délicieux. Je regrette de ne pas avoir participé us activement à la préparation des macarons.
Oui je recommanderai cette activité !
由Annaïs对于2022-09-04
My granddaughter & I had so much fun taking this class. Our instructor was terrific! I highly recommend!!
Great instructor!! So much fun & long enough!! The macarons were better than Laduree.
由Danielle Wagner对于2022-08-29
Muy buena
Recomendaria esta experiencia. Muy original. Para cualquier aficionado en temas de cocina sin necesidad de saber mucho.
Lo que no nos gustó es que ningun dependiente nos supo informar de donde se realizaba esta experiencia. Nadie de la tienda conocia esta actividad.
由Maria del Carmen对于2022-08-12
Amazing
100% would suggest anyone going to Paris did this it was a lot of fun and the woman in charge was very accommodating
由Emily 对于2022-08-12
Super moment
Super activité ! trop bon moment ! mention spéciale à Marie la cheffe pâtissière :)
由Clothilde Clothilde对于2022-08-11
Really great!
Loved the class! The instructor was very gracious, knowledgeable, and gave good tips. We really enjoyed it!
由Sylvia Lee对于2022-08-07
Delicias de Paris em Galeria Lafayette
Adoramos a aula, muito vem organizada, com otima professora conduzindo o grupo. Um charme!!
由Fernanda Codorniz对于2022-07-20
Don't Miss This Unique Opportunity in Paris
I am determined to go home a particle making macaroons until they are worthy of gifting to friends. This was a highlight of my trip to Paris.
由Anne Condran对于2022-07-18
Fun Class!
My 16-year old daughter wanted to learn how to bake macarons, so we signed up for a class. Marie, the instructor, is wonderful! She is such a fun, friendly, delightful and positive person. I really enjoyed eating the butter and chocolate while we were mixing it in the bowl. The macarons that we made on the cookie tray tasted just like brownies. So delicious :) My daughter and I had a great time in Marie's macaron bakery class and we're so glad we signed up. Merci beaucoup Marie!


由Theresa E对于2022-07-18
GENIAL
C'était vraiment super , j'ai beaucoup aimé :-)
由Kheira Merati对于2022-07-18
Wonderful Experience With Great Teacher
We had a great time at this class. It got my kids excited to try to make them at home. The pistachio macarons that we made were amazing! The instructor was funny and fun!
由Celeste Schooley对于2022-07-14
Dommage qu'on a pas pu faire les coques
Ce qui m'a déplu c'est que la séance soit trop courte et qu'on ai pas eu l'opportunité de faire nous même les coques.
Je n'ai pas eu de difficultés
Je ne recommanderais pas cette activité
由ANGELA NORONHA对于2022-07-07
Excellent experience!
So much fun! Marie was very well organized. She had everything prepared and explained each step clearly and with patience. We learned a lot, and had much fun doing it. Merci Marie!
由Edward ODonnell对于2022-07-07
Great class!
A great class, would recommend. Excellent instruction and fun. You aren't able to complete the whole process of making the macaroon due to the hours actually needed to work through the steps. But, they explain and give recipes to take home.
由Christie Wickline对于2022-06-30
Excellent macaron activity
We absolutely loved our macaron class and would recommend.
The pastry chef was amazing (it was her first day doing it but made it so fun and informative.)
We got to make four macarons - chocolate and pistachio - and got the recipe to take home at the end.
The setting was a spacious kitchen inside the beautiful Galeries Lafayette.
A great addition to our Paris trip.
由Becky 对于2022-06-20
Merci ????
Je remercie Marie pour son accueil, très souriante et chaleureuse. Elle traduit parfaitement bien en anglais ainsi qu'en français. Le cours est très bien expliqué, et hâte de faire la recette chez moi. Merci pour ce moment
由Laura TESSIER 对于2022-06-16
It was great class the instructors make a very fun class.
This was a wonderful experience . My
wife and I had a great time.
由Jeffrey Goldstein对于2022-06-13
Little disappointing...
To be honest, I wanted to make macarons from the beginning by myself, however, it was disappointing that macaron shell making was done only by the instructor (we could just see the demonstration). Also, making macaron cream was too simple (just mix the ingredients already prepared), and I could hardly say that the taste was good.
由Coco对于2022-06-06
Fun experience and tasty result
We had lots of fun making the ganache for our macarons. Clear explanations and lovely teacher. Macarons turned out quite good too. I'd recommend to make a few more though, so you don't go home with a large box that's half empty. Nice presentation is as important as the process. Overall would definitely recommend!
由Anonymous对于2022-06-01
nice experience
Nice experience, yummy
由Kimberly Suggs对于2022-05-31
Bonne qualité, mais le prix est cher pour le temps et pour le fait que nous ne faisons pas vraiment les macarons.
Bonne expérience, mais le prix peut être moins cher.
由Lorenzza Bucci对于2022-05-28
Nice
It was a nice workshop .
Would love to have more photos and the staff did not know where the Lafayette apartment was
由Brunilda Topciu对于2022-05-16
Inattendu
Je pensais que cet atelier allais me permettre de faire la recette entièrement et non regarder. Je pensais que j'allais pouvoir faire une quinzaine de macarons et la ganache en conséquence. Au final, je suis repartie avec 4 petits macarons et je n'ai pu en pocher que 2. Je suis vraiment déçue de cet atelier. Cependant, le cours est bien dispensé, et les conseils sont présents. Les fiches recettes fournies sont claires. J'ai eu la réponse à mes questions, j'aurais aimé la pratique. Je ne recommande pas cet atelier aux personnes qui sont désireuses d'apprendre la technique mais plutôt à celle qui souhaitent un divertissement.
由Tatiana MURAT对于2022-05-13
good teacher, fun activity
Learning to make macarons was quite interesting.
由Ronald Small对于2022-05-12
une initiation agréable
- Initiation à la préparation de macarons: nous n'avons pas fait l'intégralité de la recette
- Difficulté lors de ma réservation: Funbooker ne détaillait ni l'étage au sein du magasin ni montrait une carte détaillé pour retrouver facilement l'atelier / endroit du cours
- Le cours était agréable, le professeur avait un bon rythme pour pourvoir suivre le cours et la recette était claire
- En conclusion, j'étais contente d'avoir fait cet atelier.

由NATALIA BOLOU对于2022-05-11
Fun afternoon!
Great activity to do while in Paris. Location was difficult to find as we were misdirected by staff several times to the wrong building. Overall we loved the actual demonstration and cooking and our take hike cookies were delicious!
由Jennifer Logsdon对于2022-04-30
Fun, engaging and suitable for family and friends
The course was conducted in a group of 10 by a friendly chef/teacher who is both fluent in French and English. It was fun and engaging, with techniques such as piping taught. You will receive a box to contain your macaroons for takeaway. Suitable for children and adults likewise. Do note there are pre-made macaroon shells prepared in advance (though you get a shot at trying to make a batch yourself)
由Ian L对于2022-04-29
4
It was fun
由YEHUDIT Mizrachi对于2022-04-25
4
It was fun
由YEUDIT MIZRACHI对于2022-04-25
Fun macaron baking class
This was a great activity. Well organized and prepared. Our teacher was very informative and helpful and friendly. All of the ingredients were pre measured and prepared in advance to allow for a very relaxing and stress free experience. We received the recipes for future use and cute little boxes to round off the experience.
This was not a deep dive master class in macaron baking but rather a kid/novice baker friendly experience. I would definitely recommend to others.
由G Etco对于2022-04-25
Macaron Baking Class
Very fun experience with my family. Our instructor Mary was friendly and had lots of energy! The macarons were delicious and we made a lasting memory.
由Cory Daschbach对于2022-04-21
Wonderful experience. Highly recommend!
Fun non traditional activity to experience France. Chef spoke English and French and offered an informative and fun class.
由Lindsay Adams对于2022-04-12
Merveilleuse Marie!
Marie est merveilleuse! A sweet, caring, and genuine individual! If we only meet a person like this once in our life, we are blessed. She s the real deal. Super x 1,000!!!

We love you

Ed and Danielle Leard
由ed leard对于2022-03-28
Loved It
Absolutely great for all ages. Delicious result and good mix of watching a demo and hands on.
由Elizabeth Franson对于2022-03-21
Turned away at the door
The instructor told me my name wasn't on the list. Even after I showed proof of purchase and the reminder email confirming the event.
由Maria Diaz对于2022-03-21
Nice
Yes
由Mia Doiny对于2022-03-10
Super activité !
Super activité originale et ludique ! Ma famille américaine a adorée ! Mention ++ pour la recette offerte !
由Simon Koutcherov对于2022-03-01
Sympa
Cuisinière sympa
Lieu sympa
Souhaitais repartir avec la tablier des Galeries Lafayette
由Anna Chiarisoli对于2022-02-28
Disappointing Class
This class is barely a class. We expected to make macarons but we really just stirred some butter and sugar.
由Jennifer Brevick对于2022-02-24
Yummy & Informative!
We booked this class to do something different but fun and delicious during our stay in Paris. The class was just the right size and everything was set up and ready when we walked in. The tables were prepped with everything we needed to make 2 different ganache fillings for our macarons. We watched the demonstration for how to make the shells and then were able to "practice" forming the shells using the mixture made by the class instructor. She then instructed us on how to make a chocolate filling and gave us pre-made shells for 2 macarons each while our "practice" shells were baking in the oven. They were all collected so they could chill in the fridge while we made the next set. We also then made a pistachio ganache filling for 2 pistachio shells and filled those as well. We were given the clear plastic boxes to put all of our macarons (4 total for each person) and we were able to tastes the shells we made as well. What a fun, delicious and interesting class!
由Rebecca M.对于2022-02-22
4 very expensive macarons, teacher was very nice
Although the teacher was very nice the macarons course was disappointing….

The course was actually too short to learn anything. Macarons take a lot of time and patience. We went home with 4 pieces and they tasted delicious. But I feel I Just paid a lot of money for 4 macarons….

由Hella对于2022-01-24
Super
Oui je recommande, la formatrice était super sympa, accueillante, souriante nous avons passé un agréable moment !
Merci
由Nashata对于2022-01-17
More demonstration than lesson
Marie was really lovely, but we did expect to have the opportunity to create a whole batch rather than watch her do it. We did not receive the promised recipes by email after the lesson either.
由Elisabeth Catuogno对于2022-01-08
Very fun and informative
This was a super fun and good class. The reason I didn't give it 5 stars was because they didn't send the recipe via email as they had promised.
由Kristine Pineda对于2022-01-05
Un joli cadre, une douce et pédagogue formatrice, et 4 délicieux macarons à la clé
Le joli cadre, la douce et pédagogue formatrice, un petit groupe restreint pour pouvoir profiter pleinement de l'heure et des explications, tout était parfait. Par ailleurs, pouvoir ramener chez soi ses macarons est une superbe idée qui permet d'en épater plus d'un et donne vraiment envie de s'y (re)mettre sérieusement.
由Josepha Rasamuel对于2021-12-23
A great experience
One of the best things we did in Paris. The instructor was so nice and friendly and the class was super fun and informative. Would recommend for sure.
由Lindsey Diefenbach对于2021-11-18
A Dream Come Through
Great time. Our chef was very informative and was extremely helpful. Would recommend to any visitor staying in the City of Lights!
由Mary Meinzer对于2021-10-28
Macarons
Pour moi, l'idéal aurait été de pouvoir utiliser un robot (mais 1 robot pour chaque table pas possible je pense).....
Sinon, l'atelier était bien mené par Marie avec une grande majorité d'étrangers....
J'ai profité de plusieurs conseils et astuces qui me seront bien utiles.
Merci !
由Catherine MORREALE对于2021-10-28
Perfect
It was absolutely fantastic. Highly recommended
由Svitlana Koroleva对于2021-10-07
Super
Super activité! Notre chef pâtissière à été top!
由Fab对于2021-09-27
Je recommande fortement
Nous étions un petit groupe donc on a tous pu bien participer à l'atelier et la formatrice était très claire dans ses explications et très patiente avec nous les débutants.
Je recommande fortement
由Ghizlane Badsi对于2021-09-27
Peu mieux faire
Animatrice synpathique avec de bonnes astuce néanmoins la manipulation reste minime et manque les petits plus Galeries Lafayette.

Acceuilllis avec de l eau?
Tablier de cuisine sans logo...
Bref aucun soucis du detail


由INES GHOZZI对于2021-09-06
Disappointment
The pastry chef was not very enthusiastic and she was hard to hear. It was also hard to see what she was doing. She used a mix master and there was no mirror above to see how she was blending.

We told her we don't eat chocolate and she said there will there be a plain macaron. It was Pistachio. We not only didn't get to make our own, except for the paste, but we never even ate one because we don't eat thosed flavors.

The "class" was not really a class at all, more a demonstration.


由Louisa Goldsmith对于2021-08-31
L'idée d'un atelier Macaron est très intéressante.
Toutefois, j'ai trouvé cet atelier très léger.
Il n'y a pas que des anglophones qui y participent.
Donc essayer de le faire également en français sans qu'on soit toujours obligé de demander la traduction.
Pourquoi chaque participant ne dispose pas d'une poche à douille pour apprendre le façonnage des macarons.? Lorsqu'un participant pose des questions sur les macarons, donner la réponse ou l'explication, afin que tout le monde entende, et puisse en bénéficier. (Ex lorsque certains participants posent des questions sur la façon dont on peut faire des macarons aux fruits. À la mangue etc
Donner les explications de sorte que tout le monde puisse en profiter.

Pas suffisamment de trucs et astuces donnés par les chefs. C'est ce qui fait l'intérêt d'un atelier.
由Isbath Yao对于2021-08-26
Very short course
I really appreciate the fact that she prepare the macaron in front of us. I think that the time is a bit short, we did not have the opportunity to practice more. Just two flavors where included in the program.
由Giovanna PACHECO对于2021-07-26
Plus une demo qu'un cours
Lieu difficile à trouver, même au guichet de l'information les hôtesses ne connaissaient pas le lieu. Il a fallu chercher!
La plupart des préparations sont déjà faites par l'animatrice.
Manque 1 h au cours pour pouvoir tout faire soi même.
Animatrice sympathique

由Johan Laouissat对于2021-07-15
知道得越多预定越简单旅游越顺心
TripAdvisor评价
7636 评价